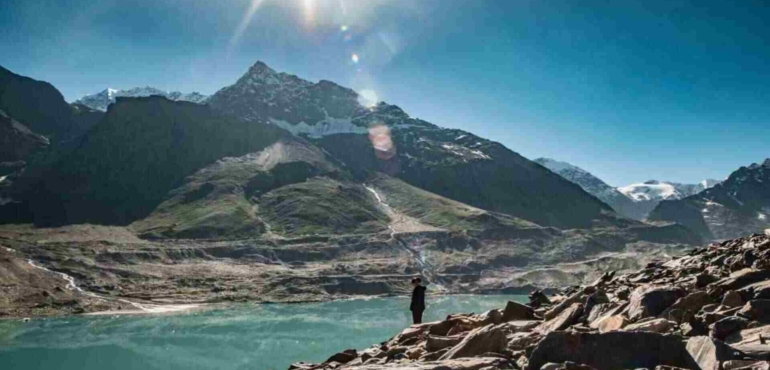 Alyas Lake In Lahaul is Every Trekker's Dream
"To the days when I believed in dreamy landscapes,
landscapes not known to human invasions.
It was only mankind, humanity exhibited.
To a cold, barren mountain desert
chanting prayers from monasteries defines a dream.
A place perched far away from human annexation and a gift from the Universe!
Amen!"
Located in the Lahaul Valley, the picturesque Alyas Lake, commonly referred to as Ghepan Lake, offers unforgettable journeys. The landscape is a kaleidoscope of vibrant wildflowers, and rocky valleys that inspire awe, and endless adventures await you.
Among the diverse Himalayan flora and expansive grasslands, you will find trails that remain uncharted, inviting you to carve your path along small glacial streams. The prospect alone is enthralling, a call to the wild and a communion with nature at its rawest.
The trail, albeit awe-inspiring, challenges adventurers with treacherous boulders, daring river crossings, unforgiving moraine, and the symphony of mountain streams. From the quaint village of Sissu, you will travel into the heart of the Himalayas on an adrenaline-pumping journey.
How to reach Sissu?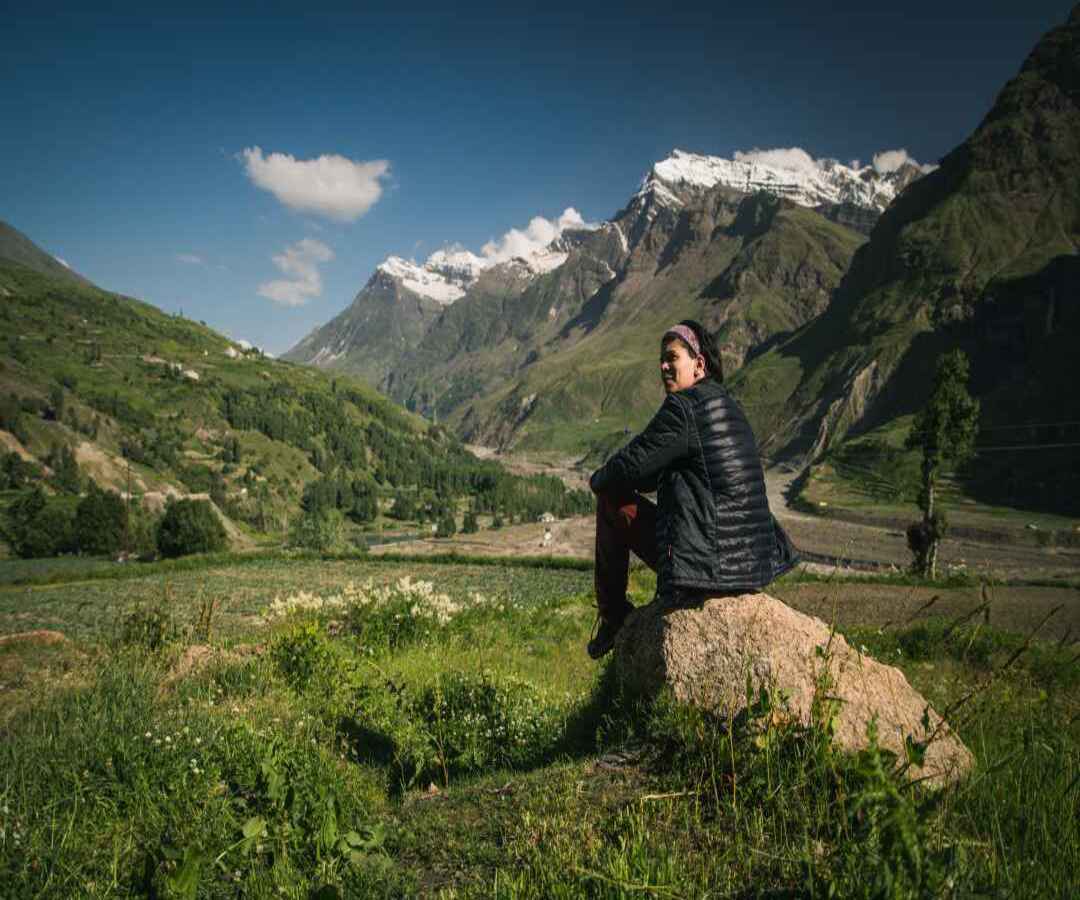 Take an HRTC bus from Delhi to Manali. Once you reach Manali, take the Manali- Leh bus, which operates from Manali Bus Stand. It will pass through Lahaul Valley and various villages.
 One of them is Sissu Village. Stay at Sissu village for one day to acclimatize. You will find plenty of homestays. Prices start from 400- 500 per Room.
Among these villages is Sissu, a quaint hamlet where you'll spend a day to acclimatize. Numerous hospitable homestays await, offering a cozy abode for a reasonable price, typically starting at 400-500 per room.
This lesser-known trek is not extensively organized by trekking companies. Trekkers must arrange their trekking equipment, which can be rented from Manali. The trek route lacks precise markers, heightening the necessity for a guide to navigate the terrain effectively.
Difficulty Level 
In terms of difficulty, the trail is categorized as moderate-difficult. The path is not clearly defined, demanding trekkers to navigate boulders, navigate small river crossings, negotiate grasslands, conquer steep slopes, and traverse moraines.
For those with substantial trekking experience in the Himalayas, tackling this hidden lake trek solo is feasible. However, it's advisable to engage a seasoned guide to facilitate route navigation. Group expeditions with a guide are highly recommended, ensuring a safer and more enjoyable trek. Guides typically charge between 800-1000 for their services.
Cost: The hidden lake trek can be done solo if you have good trekking experience in the Himalayas.
TIP: Hire a guide if possible to make it easy to keep track of the route.
Hiring a guide and going in a group is highly recommended. The charges are usually between 800-1000.
This trek is lesser known, and not many trekking companies organize this trek. Trekkers need to make sure that they bring their trekking equipment from Manali on rent.
Trek Route
There is no definite trek route. One may get lost and not reach the hidden lake.
Manali- Sissu- Trailhead- Camp 1- Camp 2- Alyas Lake(Ghepanghat)-Camp 2- Sissu
When to do the trek?
The best time to do this trek is between mid-July – Mid-September. The trail remains under a thick blanket of snow for the rest of the months.
Brief Itinerary
Day 1
Manali to Sissu
Take an HRTC Bus from Delhi going to Manali. After reaching Manali, take a bus from the Manali bus stand to Leh Highway, passing Lahaul Valley and Sissu.
There are plenty of homestays readily available. Admire the beauty of the mountains in Lahaul and Lahauli Culture. You can also trek up to Sissu waterfall and experience some thrill before heading for the trek.
Cost: Bus fare from Delhi– Manali will be Rs600-700
Bus fare from Manali- Leh. Stop at Sissu(Rs75-90)
 Homestays start from Rs 500. If you bargain, you can get it for Rs 400. Base Price is Rs 400
Day 2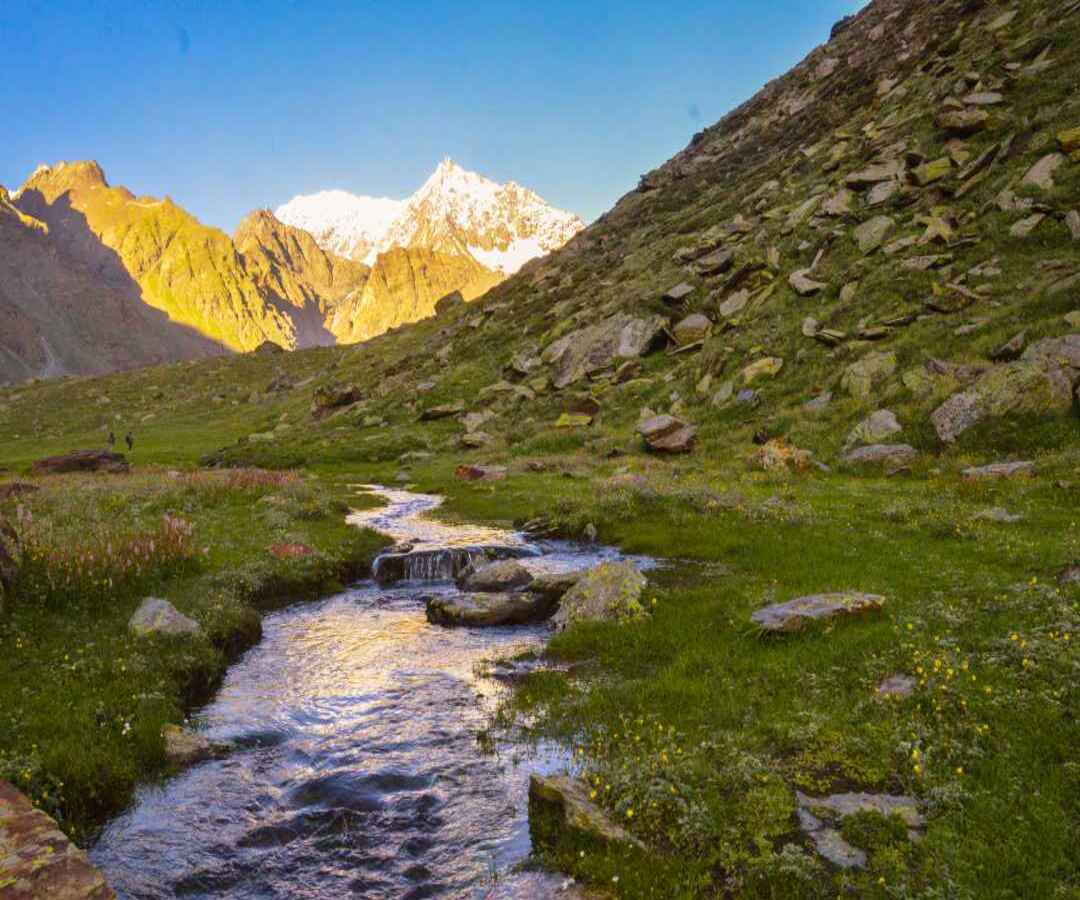 Sissu- Trailhead- Camp 1
Pack your meals and carry all of your camping equipment and necessities. Sissu village is the final village with an internet connection. Take a taxi to the trailhead. They are easily accessible.
TIP: Bring adequate food and walking equipment because there will be no shops after Sissu. It is the last road that can be driven on.
The path is rutted, uneven, and steep. The beautiful views of Sissu village, as well as various gorgeous homes, will warm your heart.
The driver will drop you off at the trailhead after a 15-minute drive. The journey begins here. Because of the repeated ascents and descents, it will be a roller coaster ride.
The first several hours are rather simple. The trail contains tiny walkways in between, as well as Nala and river crossings. Be psychologically prepared because this is an exciting time. The walk becomes more difficult as you progress.
There are no straight paths, and three large Nalas must be crossed. This hike's main draws include boulders, moraine, and scree. Trekkers will arrive to a huge level, verdant meadow after crossing the Nalas and steep paths.
Pitch your tent and relax. Witness the jaw-dropping views of the Pir Panjal range.
Day 3
Camp 2– Hidden Lake(Ghepanghat)
To get to the lake, start your day early. The distance between Camp 2 and the lake is 3 kilometers. Camping approximately 2-3 kilometers away from the lake is recommended. There will be many rock ridges and little streams going by.
There will be a shepherd who has constructed a stone cabin. After passing through the home, you will come across the beautiful Ghepanghat Lake (Alyas Lake), a neon-blue hidden lake. The lake is generated by rapidly receding glaciers.
The entire vista is breathtaking, with enormous chunks of ice floating in the water. The breathtaking blue lake spreads across the uninhabited unknown heights. Get started! and really feel it!
Day 4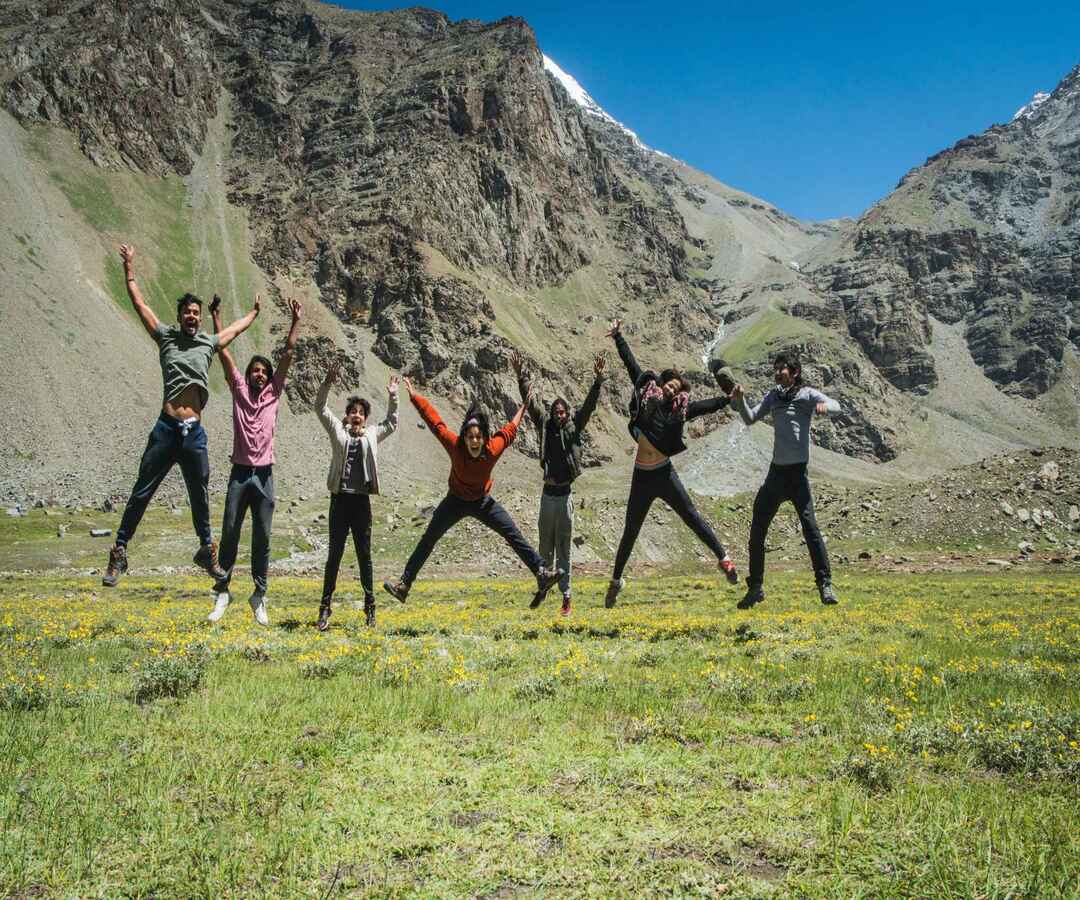 Camp 2- Ghepanghat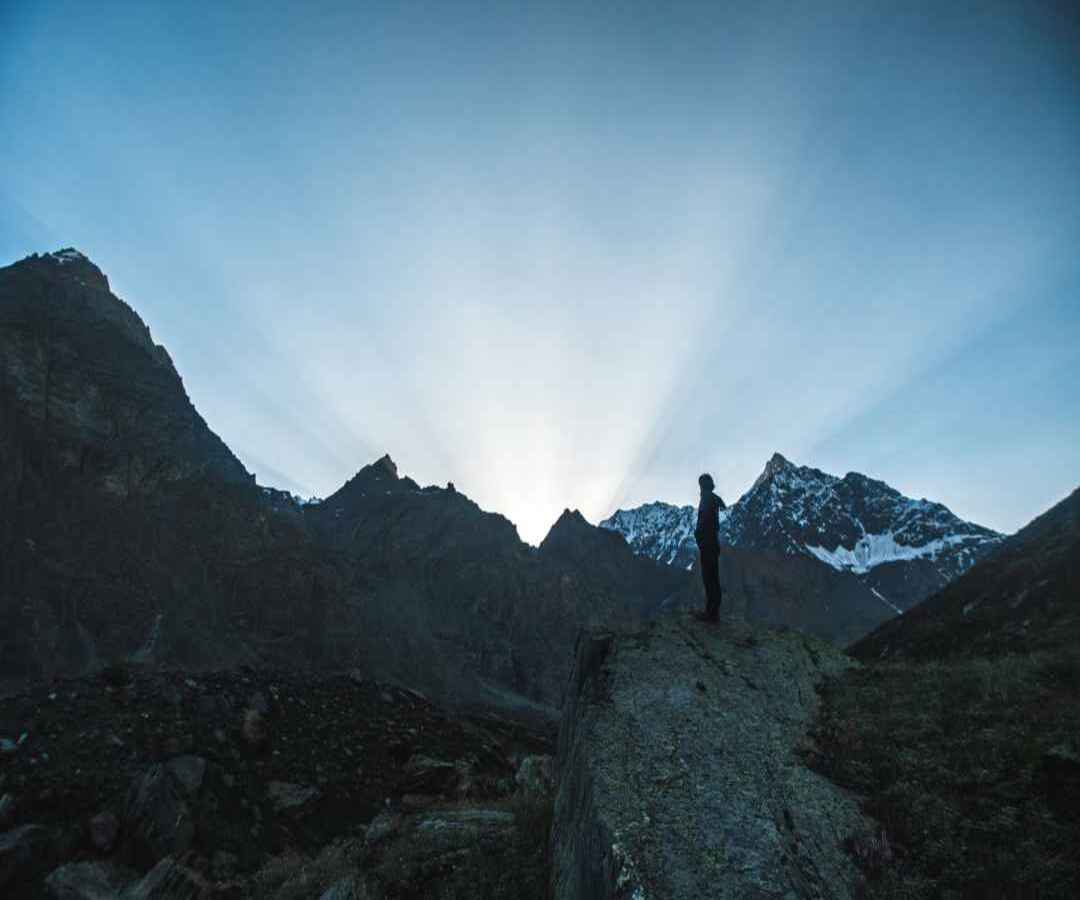 Return to the same trail you'll be on in a few hours. Return to the base camp early in the morning.
Camp1 – Trailhead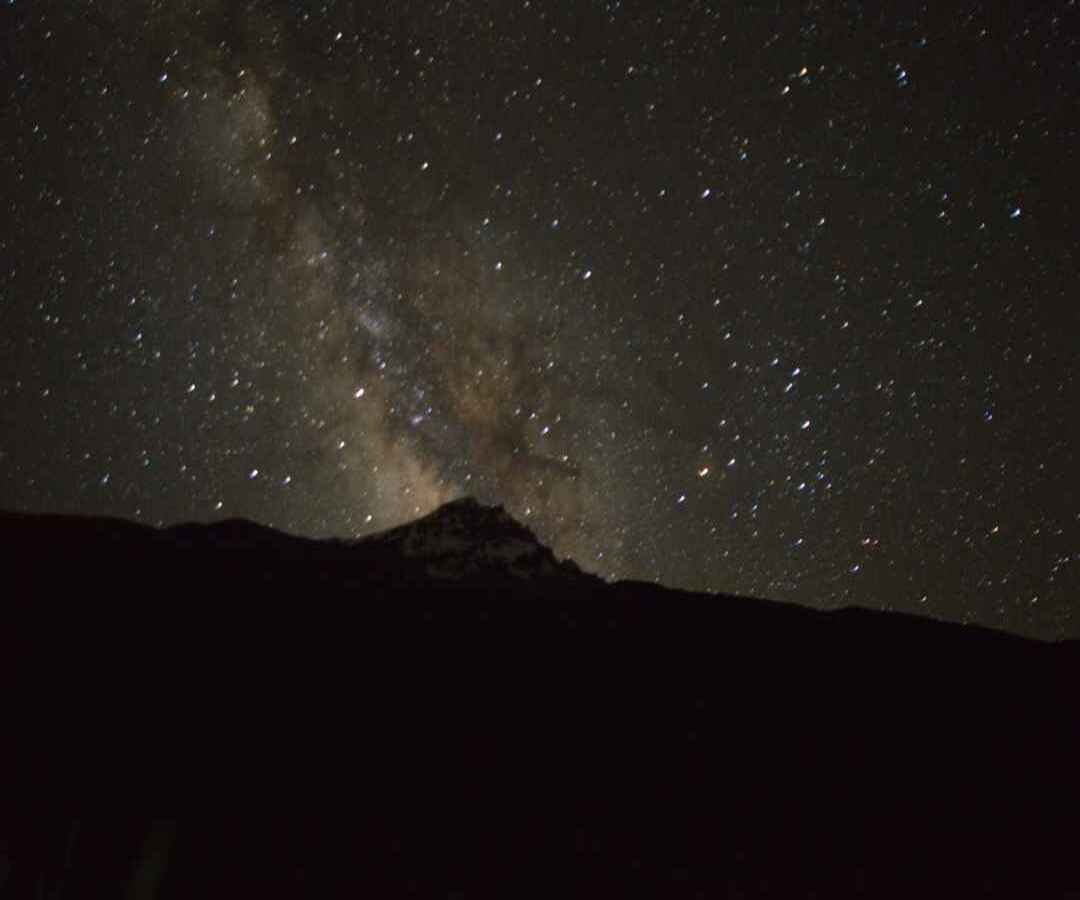 You'll be back in society soon. The last stretch will take between 5 and 6 hours.
The whole length of the expedition is determined by how far you wish to go. The hike may be done in three days, but you can extend it to four days if you choose.
Alyas Lake, also known as Ghepanghat, may be visited for Rs2700-Rs3500 (maximum) with guides, food, and lodging at homestays.
Note: This trailhead is not recommended for inexperienced hikers. Lahaul valley's terrain is dangerous. Before tackling this trek, do a couple of high-altitude treks in the Himalayas.
Happy Trekking
Yours truly, thebrooklynomad!