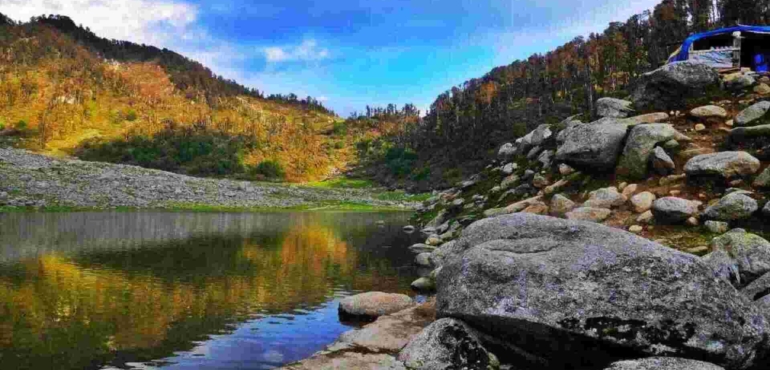 Top Dhauladhar Lakes to Visit in Himachal Pradesh
Overview
Dhauladhar Lakes are pristine and sacred bodies of water nestled in the majestic Dhauladhar mountains of Himachal Pradesh. This trek begins from the village of Kareri and leads up to Minkiani Pass at 4000m, culminating at Lam Dal Lake. Camping is prohibited at Lam Dal due to its sacred status, making the lakes remain untouched, except for a brief monsoon period when pilgrims trek during Janmashtami.
The trail winds through Oak trees and rhododendrons, providing breathtaking views of Dhauladhar and Pir Panjal ranges to the North, and the Punjab plains to the South. These lakes are best-kept secrets, primarily untouched, offering a serene trek with fantastic mountain views. The highest peak in the Dhauladhar range, Hanuman Tibba, adds to the allure of this trek.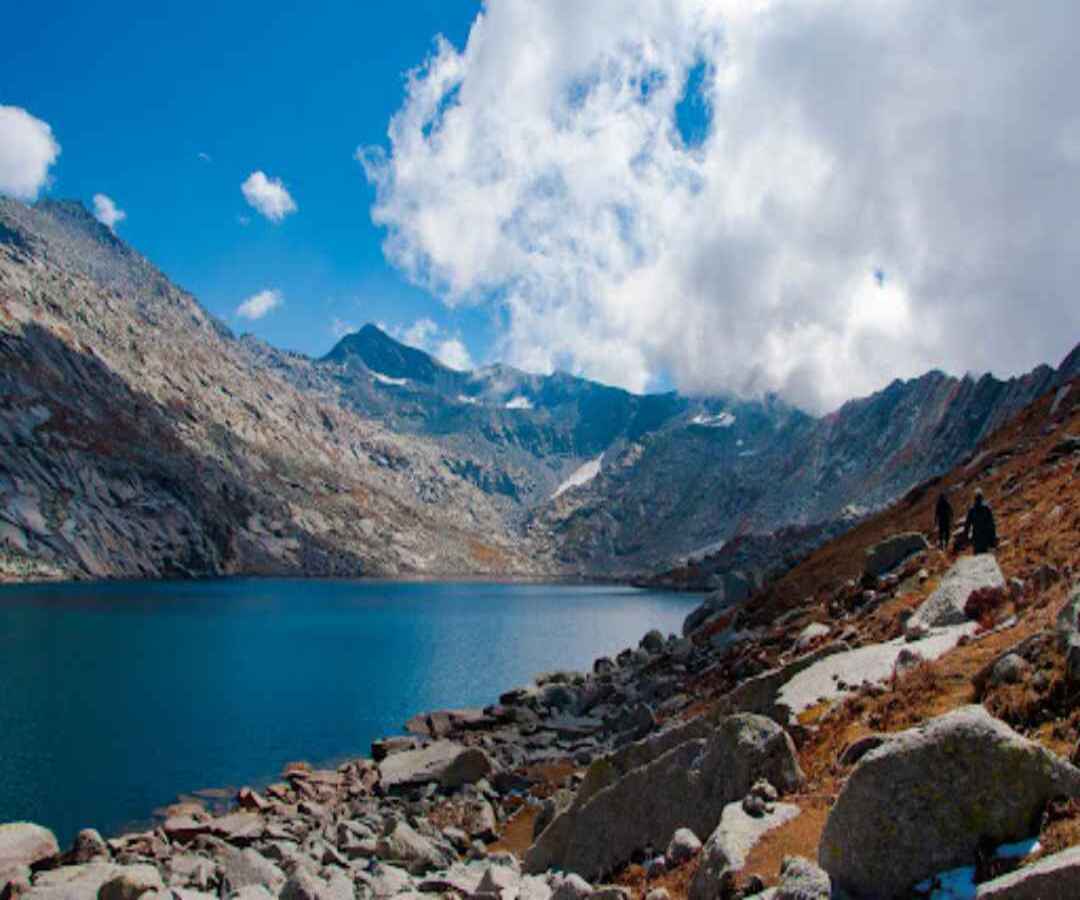 Route: Dharamshala – Kareri Lake via Kareri village- Nagar Lake via Minkiani Pass- Chandrakup Lake via Lam Dal and Kali Kund- Nagar Dal to Kareri village via Minkiani Pass- Back to Dharamshala.
Short Itinerary
Day 1: Dharamshala to Kareri Lake (3000 m) via Kareri Village – 30 km Drive, 10 km Trek
Day 2: Kareri Lake to Nagar Lake (3700 m) via Minkiani Pass (4050 m) – 6 km Trek
Day 3: Nagar Dal to Chandrakup Lake (4200 m) via Lam Dal and Kali Kund – 11 km
Day 4: Nagar Dal to Kareri Village via Minkiani Pass – 15 km
Day 5: Kareri Village to Dharamshala
Facts about the Dhauladhar Lakes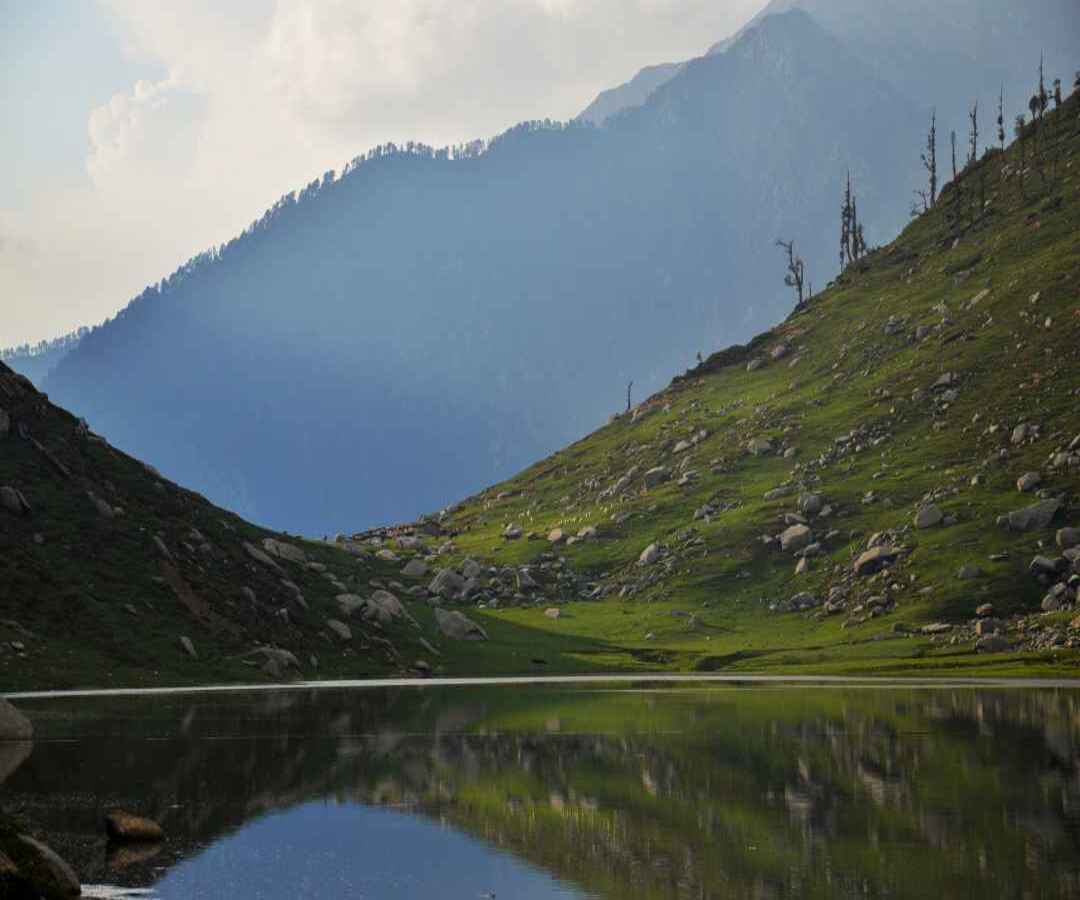 Duration: 5 days
Difficulty Level: Moderate to Difficult(Not for the first timers, requires an adequate level of fitness)
Trek Distance: 30 km
Base Camp: Kareri Village
Altitude: 13594ft/4250M

Ideal Temperature Guide for Dhauladhar Lakes Trek:
Summer:
Daytime: 13°C to 17°C, Night: 0°C to 7°C
Morning: 15°C to 25°C, Night: 8°C to 10°C

Monsoon:
Morning: 10°C to 20°C, Night: 5°C to 8°C

Autumn:
Morning: 10°C to 15°C, Night: 4°C to 6°C

Winter:
Morning: -11°C to 0°C, Night: -20°C to -11°C
Best Time for the Trek:
Mid-May to Mid-July: Ideal weather, pleasant mornings (10°C to 15°C) and cool nights (4°C to 6°C).
September to Mid-October: Post-monsoon beauty, slightly chilly mornings (10°C to 15°C) and cooler nights (4°C to 6°C).
Tips:
Wear warm clothes during chilly nights, especially from late September to October.
Summer days are sunny; a light pullover is sufficient but cover up to combat cold winds.
Avoid trekking in July due to landslides and heavy rainfall
Temperature
Morning: 10 degrees to 15 degrees Celsius
Night: 4 degrees to 6 degrees Celsius.
Myth/History of Dhauladhar Lakes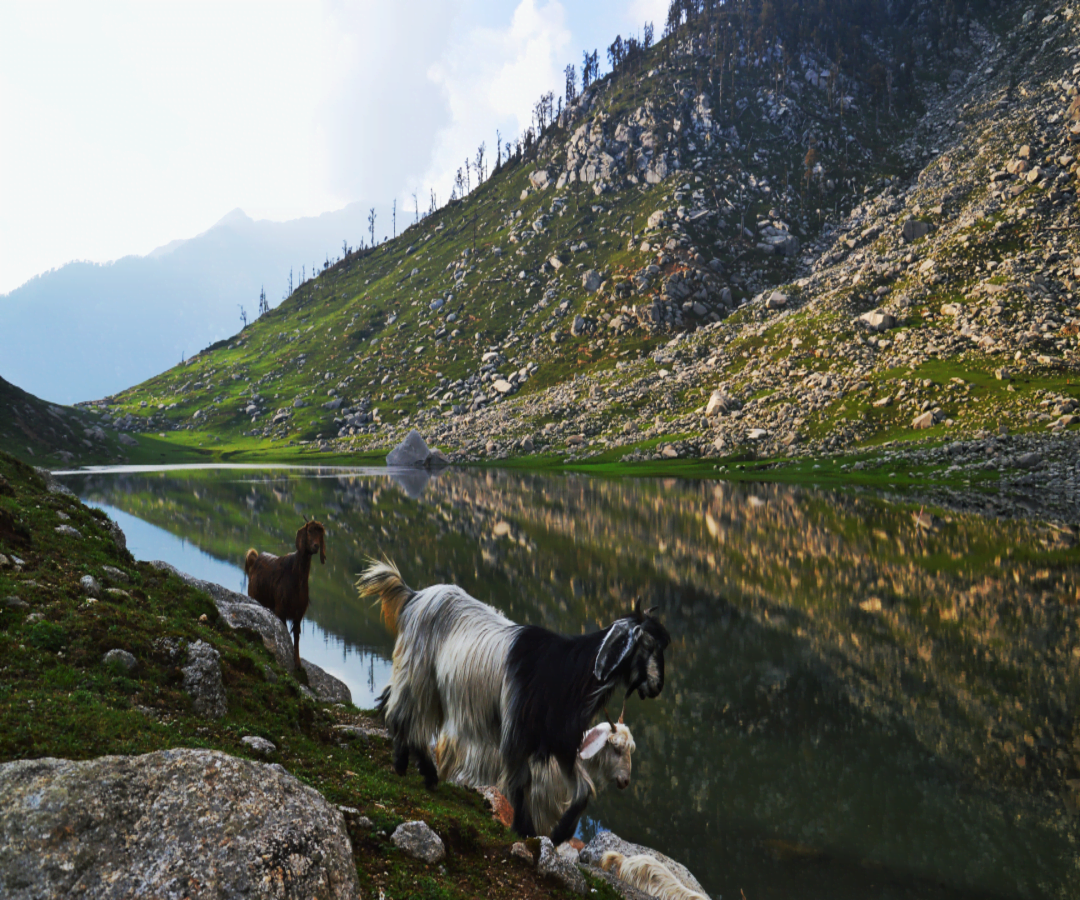 The Dhauladhar lakes are revered and considered sacred by the locals, who hold deep spiritual beliefs regarding these untouched waters. This region is not just a trek; it's a pilgrimage. The Gaddis of these valleys are devout worshippers of Lord Shiva, and for them, the journey to these lakes is a sacred act.
The trail leading to Dhauladhar lakes is more than a trek; it's a spiritual pathway that also connects to other significant pilgrimage routes like Zanskar and Garhwal. These routes unveil undiscovered passes and hidden pathways, adding to the mystique of the journey.
One of the most prominent festivals in this region is Shivratri. During this auspicious time, the local community comes together, crossing challenging terrains and high passes, to embark on a pilgrimage to the holy Manimahesh Lake in Chamba Valley. It's a collective journey of faith and devotion, deepening their connection with the divine.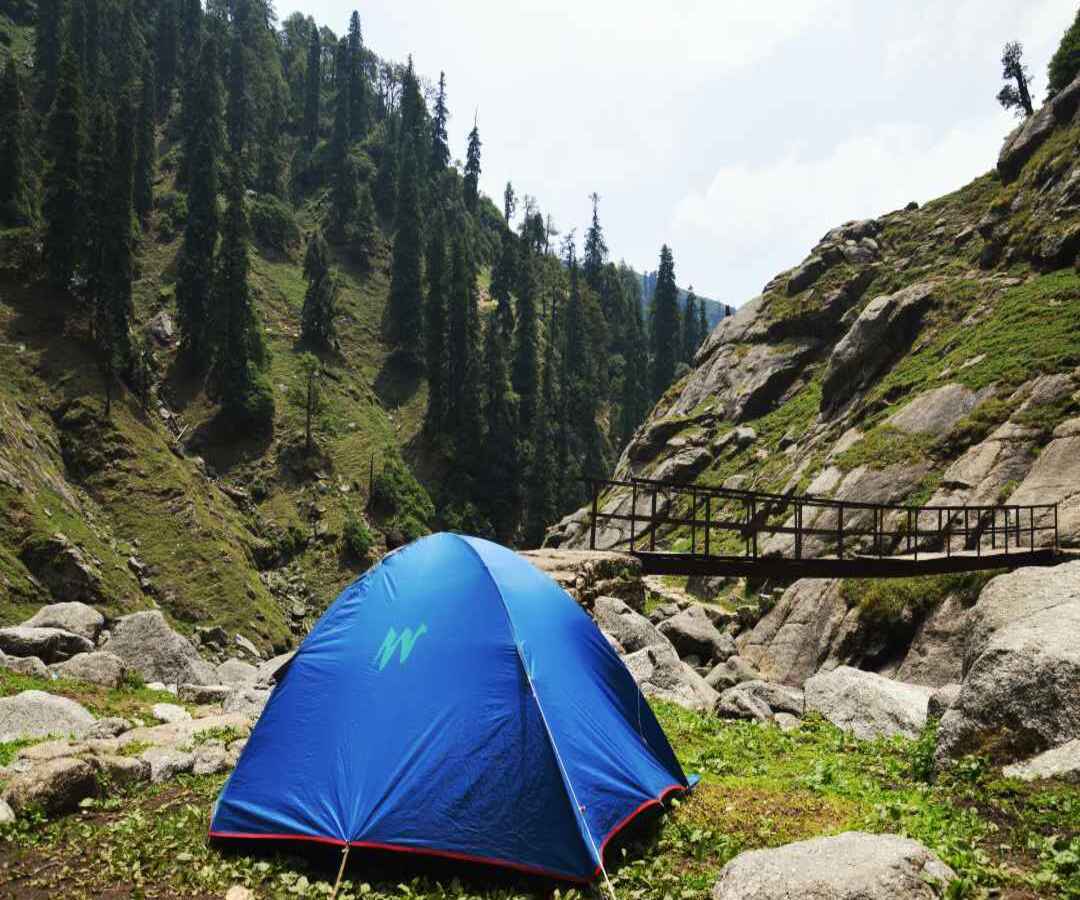 Trek Eligibility and Preparation:
Who can undertake this trek?
The Dhauladhar Lakes trek is tailored for individuals with prior experience in high-altitude trekking. Prospective trekkers should have successfully completed at least one moderate plus trek, reaching altitudes higher than 4700 – 5000M.
How to Prepare for the Trek:
The Dhauladhar Lakes trek is graded as moderate to difficult, demanding a good level of physical fitness and endurance. It ascends to altitudes over 13,000ft, with a notable altitude gain from Dharamshala to Minkiani Pass (4500ft to 13594ft).
To prepare effectively:
Build Lung Strength:
Begin a daily jogging regimen, starting at a manageable pace and gradually increasing it. Consistent jogging enhances lung capacity and endurance, preparing you for the high-altitude challenge.
Focus on Cardiovascular Endurance:
Engage in cardiovascular exercises to boost your endurance, which is critical for tackling the trek's steep ascents and challenging terrains.
Progressive Training Routine:
Initiate with achievable goals like covering 5km in 40 minutes and gradually escalate your pace and distance. Incorporate running or cycling into your fitness routine.

Strength and Stability:
Include squats and stair climbing in your workout routine to enhance leg strength and stability, vital for navigating the rugged trekking paths.

• Then gradually increase your pace by running at least four times a week. Then try to
bring it down to 5km in less than 37 minutes  
• If you are a person who prefers cycling over running, then your target must be 22km
means you should be able to cover 22km in 60 mins.
Here is the routine for one month. You must exercise four times a
week.
Trek Fitness Guide:
Warm-up:
Begin with a 5-minute session of spot jogging.
Transition into brisk walking, then progress to light jogging, aiming for a total duration of 40 minutes.

Workouts:
Walking:
Walking is a highly effective exercise for shaping the legs and overall body, aiding weight loss, and strengthening the heart.

Jogging:
Jogging is a powerful aerobic exercise that not only improves lung capacity but also contributes to a longer, healthier lifespan. It's excellent for combating obesity and maintaining general health.

Squats:
Squats are exceptional functional exercises, enhancing stability and strengthening the legs, thighs, hips, and hamstrings. Perform 15 sets of squats, repeating this routine 3 times.
Stair Climbing:
Engage in stair climbing to enhance cardiovascular health and build strength and power. Start with climbing 2 stories in 15 minutes, and as you progress, challenge yourself with 3 stories in 15 minutes.

Weekly Routine:
Week 1:
Spot Jogging (5 mins), Brisk Walk + Light Jog (3km in 30 mins), Squats (153), Stair Climbing (2 stories in 15 mins).
Week 2:
Spot Jogging (5 mins), Brisk Walk + Light Jog (3km in 20 mins), Squats (153), Stair Climbing (3 stories in 15 mins).
Week 3:
Spot Jogging (5 mins), Brisk Walk + Light Jog (3km in 20 mins), Squats (153), Stair Climbing (2 stories in 20 mins with a 4kg backpack).
By progressively intensifying your workouts and incorporating these exercises into your routine, you'll improve your cardiovascular endurance, strength, and overall fitness, essential for a successful Dhauladhar Lakes trek
How to reach?
Option 1: By Air and Bus
Step 1: Reach Delhi by a direct flight from your city (Kolkata, Mumbai, Pune, etc.).
Step 2: From Delhi, book a bus to Shimla.
Step 3: Continue the journey by taking another bus from Shimla to Manali.
Step 4: Travel from Manali to Bhuntar, the nearest airport to Manali, which is about 52 km away.
Step 5: Take a taxi from Bhuntar to reach your final destination, Khanol.

Option 2: By Road

Step 1: In Delhi, board an overnight bus to Manali.
Step 2: Arrive in Manali after the overnight journey.
Step 3: Take a taxi from Manali to Khanol, your final destination.
For a smoother travel experience, consider booking tickets in advance via reputable platforms like redbus.in or hrtc.gov.in. It's advisable to choose the timing of your journey carefully, especially for the overnight bus from Delhi to Manali, as most Volvo private buses depart in the late afternoon or early evening. Also, ensure you're prepared for the long journey and have arranged for onward transportation from Manali to your destination in Khanol.